Un musical que lleva triunfando en Broadway y Londres desde hace más de 10 años, llega a nuestro colegio interpretada por alumnos de primaria y secundaria. Las mejores canciones de Queen que te harán vibrar en la propia butaca. La entrada es totalmente gratuita y libre, hasta completar el aforo. Abriremos nuestras puertas media hora antes de cada espectáculo. ¡No te lo pierdas, te esperamos!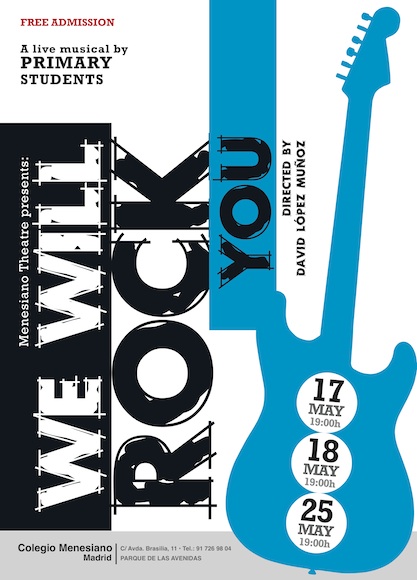 Welcome once again to the Menesiano Theatre. This year we are proud to present an original adaptation of the musical ¨We Will Rock You", performed by Primary and Secondary Menesiano students.
"We Will Rock You", based around all the best songs by the British rock group Queen, has been wowing audiences for over 10 years on Broadway and in London. This time you can enjoy it completely free of charge in the school theatre. Doors open 30 minutes before each performance. Be sure not to miss it!